Sending healthy wishes to our friends who celebrate Ramadan, Passover and Easter.
We will be closed Sunday. 4/9/2023
Our Anniversary Party/Back of the Class Press Launch - April 16th
As we enter our sixth year as owners, we want to celebrate our wonderful customers, the St. Louis community, and our amazing staff for making our business possible. We are hosting a dual event to celebrate another year with renowned artist Javier Mendoza playing from 3-5 and local indie press Back of the Class hosting a reading of national and local poets from 6-9.
We Are Open 
We're excited to welcome shoppers from our community and book lovers from all over the world. 
We continue to add new inventory, from our ever-expanding Children's Books, Literary Fiction, Easton Press, Heritage Press, and Franklin Library collections, to our new titles in Art, History, Judaica, Psychology, and Poetry. We look forward to seeing you.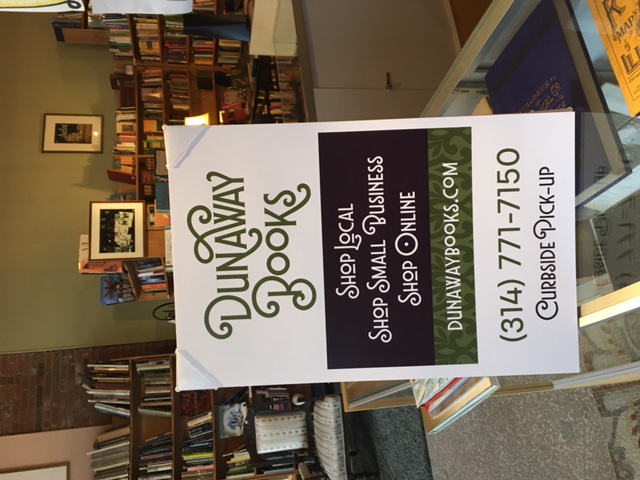 Dunaway Books is one of the premier independent bookstores in St. Louis.
An absolutely necessary "on-line" stop for all bibliophiles, located on the South Grand strip. Housed within a spacious former gallery, we carry an unparalleled selection of fine used, out-of-print, and rare volumes. Upon stepping into our store, you'll find aisle after aisle of scrupulously collected books treating a broad variety of subjects.
We keep large section in the front of our store for titles by local authors and independent publishers.The mezzanine is home to our collection of modern first editions, Black History, and Judaica. Shelves of CDs and vinyls are at the foot of the stairs for our music lovers. In the basement you'll find a broad range of non-fiction works, as well as science fiction and mysteries. The piano on our main floor is available for our (skilled) customers to play. There is something here for everyone. Whether you have a few hours or just a few minutes to browse, Dunaway Books is designed to be an intellectually and creatively stimulating place for the scholar, the collector, and the good old-fashioned voracious reader.